I'm always on the lookout for great gift ideas for kids. I love gifts that give back to the world. Nowadays it's so easy to go to a toy store and buy a gift; the selection is amazing the prices are low. But I'm realizing that my kids don't need things, they have lots of things.
I grew up very poor and when it came time to getting gifts I cherished every single toy I got. I knew the value of having having things. Today I feel my kids are missing that understanding of value a little bit. Things are now cheaper and easier to buy than they ever were in the past. This makes it easier for parents to shower their kids with gifts. But I'm realizing there is more to gift giving than just toys and fun. I want my kids to have a greater understanding of the world beyond our backyard. And that is why I'm always looking for gifts with a cause.
Walls that Unite
I was recently introduced to Walls That Unite. Think "Toms of Toys". With every kit purchase a donation is made to help kids in need in Kenya, Nepal or Rwanda. They create art kits for kids that have a social impact. The kits include a donation to support one of the three causes. The art that the children create is transferred to a tile and hung in appreciation and as a commemoration of their donation in the form of an art tile as a part of an art tile wall installation in each of the charities they support.
The kit I received for my kids was the Literacy Wall – Rwanda. The kit comes with the following:
• Educational materials on the children of the area
• Art Instructions and ideas
Art Supplies for Creating your Masterpiece:
Square paper canvas (3 per kit)
Oil Pastels (set of 12)
Black Marker
Pencil
Glue Stick
Collage materials (tissue paper/scrap construction paper)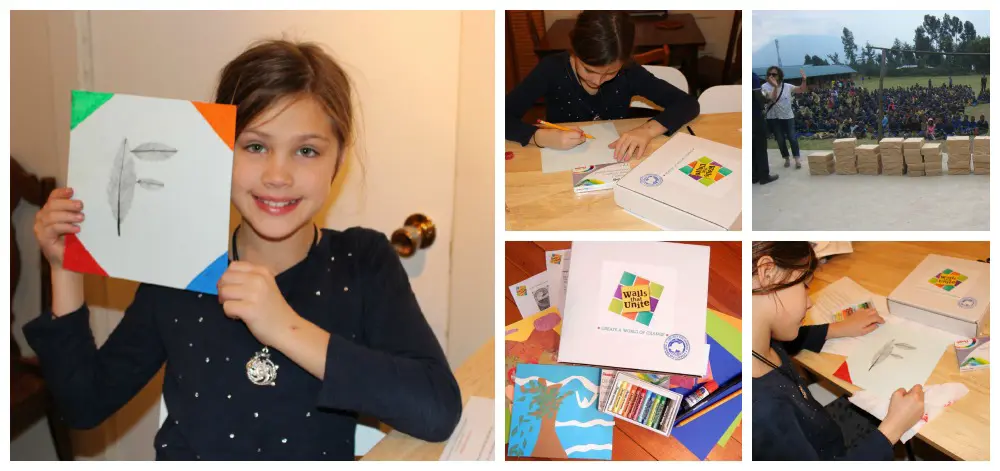 Educational and fun
I loved the information the kit contained. There is information about literacy in Rwanda and how Walls That Unite is supporting the efforts to help improve literacy there. They have installed 800 literacy tiles in 2 primary schools.  These are currently being used as English teaching tools in the schools as kids are visual learners and with the book famine in Rwanda, they are able to leave a permanent learning tool.  This year Walls That Unite have 7 schools they are looking to adorn with these visual tools.  
The proceeds from the Rwanda tiles support the development and printing of books that are created here in the US by school children – it is a double whammy – they create global citizens, critical thinkers and creative writers and artists here in the US and in Rwanda they create global citizens learning about the US and kids here as well as improving English language skills (English is the primary language of Rwanda since 2008).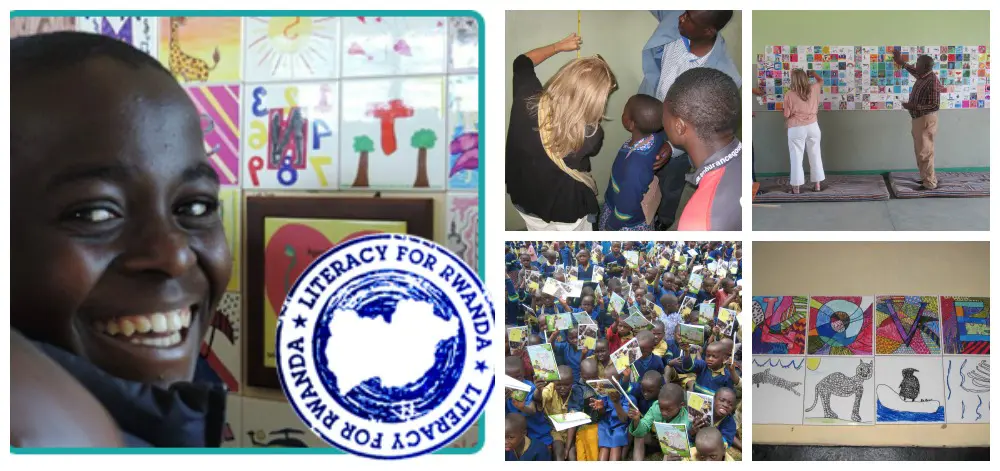 Gifts that give back can spark engaging conversations
There is also an info sheet on a typical day for a Rwandan child. We read about a 10 year old girl and what her day looks like. My daughter is 10 so we were able to talk about how she would feel if she had to do all the chores and tasks that this little girl has to do each and every day. My daughter was interested in learning about Rwanda and literacy and actually went online to learn more. Over dinner she shared interesting facts she discovered. This gift provided me with a great teaching tool and a wonderful experience for my daughter to learn more about the world around her.
Be sure to check out their website to learn more about the causes they support and the gifts you can bring the lucky child in your life! Do you have a company you love that has gifts that give back? Come on over to our Facebook Page and let us know!